It's Spooky Season … Are you Terrified to Buy Contact Lenses Online?
It's that time of year again! Time to bring out your creative side and transform yourself into that costume you've been thinking up all year. When it comes to transformation, the details make all of the difference. Nothing puts the finishing touches on a killer costume, like cosmetic contact lenses. You might have heard to avoid the lenses from the costume shop, but wondered, why? Keep reading to find out how to complete your look safely this Halloween. We are here to keep you spooky, without the scary side effects of dangerous contact lenses!
Tips for a safe Halloween with your contact lenses:
1. Purchase your contact lenses from your local Optometrist:
Cosmetic contact lenses are medical devices. This is because, just like prescription lenses, they carry the risk of infection and permanent vision loss if not fit correctly. Your eye care practitioner will fit you in lenses that are approved by Health Canada and give you the safety information. Unfortunately, certain lenses sold in novelty stores, are not regulated and can come with greater risk of complication.
You might think to yourself – I'm only wearing them for one night. They don't need to fit and cared for the same as regular contact lenses. Unfortunately, any eye care practitioner will tell you, that is far from the truth. The reality is, that 10 hours is enough time to cause vision problems, like infection or swelling to occur. One study found that cosmetic contact lens wearers are at a 16.5 fold increased risk of infection compared to wearers of lenses used for refractive correction (1).
2. Have your contact lenses fit for you by your Eye Care Practitioner:
When your contact lenses fit the dimensions of your cornea this is important in preventing complications. Only an Eye Care Professional can measure and prescribe you appropriate lenses in this way. A valid prescription should always include power, brand/type, base curve, diameter, and expiration date.
3. Follow proper insertion, removal, and care for your lenses
Your Eye Care Practitioner can show you how to insert and remove your lenses properly. (Provide you with cleaning and storing solution and instruction, as well as information on the do's and don'ts of contact lens wear.) This is especially critical if you've never worn lenses before, like many people seeking novelty lenses.
Pro tip – Don't use your saliva or tap water! This might seem like a reasonable thing to do. However, there is bacteria that will stick to the contact lens, introducing infection to your eye.
4. Don't wear the lenses more than you need to:
Most cosmetic lenses are marketed as "monthly disposable lenses". Therefore, these lenses transmit less oxygen than your eye needs. Also, they carry a greater risk of scratching and introducing infection to your ocular surface. It is best to throw the lenses away once you are done wearing them.
5. If your eye starts to feel uncomfortable, or become red, take them out immediately:
This is a sign that lenses are causing damage, or the start of an infection. If pain or redness doesn't go away after removal, see your Optometrist as soon as possible to assess and manage what is going on.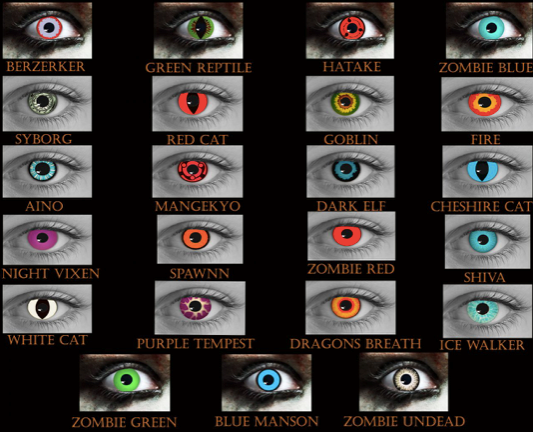 1. Bourcier T, Sauer A. Cosmetic contact lenses related microbial keratitis as a foreseeable disaster: a prospective study. Invest Ophthalmol Vis Sci. 2010;51:2884–2884. [Google Scholar]
Health Canada requires that all cosmetic lenses sold be manufactured by companies with a Medical Device License, and only be distributed to companies that hold an appropriate license. However, Alberta has unclear legislation when it comes to retailers that purchase their lenses from a licensed manufacturer. Unfortunately, change in legislation takes time, even with all associations and colleges in agreement that anything that comes in contact with your eye should be regulated more closely. In the mean time, the responsibility is on you to prevent injuries you could sustain if you try to use them without proper fitting and training.